Accessibility in Grassroots Motorsport
Motorsport is about pure enjoyment, whether you're competing or involved behind the scenes. With the technology available, we are continuing to make motorsport more accessible and widen access to ensure people with disabilities can get involved. Motorsport allows disabled people to compete against able-bodied people on a level playing field. Competitors with a range of disabilities are now regularly participating in motorsport from the grassroots through to high-performance competitions.
There is a growing list of organisations, charities and public figures championing accessibility in Motorsport. Nicolas Hamilton, who competes in the British Touring Car Championship (BTCC), has Cerebral Palsy. Nicolas is an inspiration for young people with disabilities dreaming of getting behind the wheel of a car. In his youth he was told he would never walk, now he's the first disabled driver to ever score points in the British Touring Car Championship – an astonishing feat and a significant milestone in motorsport accessibility.
Billy Monger shocked the motorsport world in 2017 when he tragically crashed in British Formula 4 at over 120mph and lost both of his legs. Since then, his recovery story has been a demonstration of true resilience, becoming a beacon of inspiration to disabled and non-disabled fans alike. Billy shows us how positivity and a winning mindset can see you through the darkest of times. Following his accident, Billy was successful in lobbying the FIA to allow disabled drivers into single seater formulas. This not only set a precedent for the future, but created a pathway for lower formulas and championships to adopt and recognise accessibility in top-tier motorsport.
Mission Motorsport is a charity to help those affected by military operations benefit from the inspiration and healing potential of motorsport. Mission motorsport has an award winning model working with government and service charities to place more than 2000 veterans in the automotive and motorsport industries. Mission Motorsport also has a training wing which delivers a range of Diploma courses and full apprenticeships to ease the transition between military service and a civilian career.
In GT4 we have Team BRIT paving the way for drivers to compete at one of the highest echelons of racing with their goal to "become the first all-disabled team to race in the Le Mans 24-hour endurance race". Partnering Team BRIT is the charity Kartforce, who provide karting opportunities for troops who are disabled or suffering from Post-Traumatic Stress Disorder and other mental health issues. The above mentioned people and organisations is not exhaustive and there are many others conducting equally admirable programmes throughout the nation.
This also rings true in grassroots motorsport where Loughborough Car Club, one of our StreetCar clubs, has recently completed the 12th edition of their innovative Disabled Driver Scholarship – which offers a free season of Autotests for two people. The competition winner was decided earlier this year at our headquarters at Bicester Heritage, and we caught up to the eventual winner, Dave Smith to see how he's getting on:
StreetCar: Dave, it has been almost two months since you won your scholarship how has it been?
Dave: It's been great so far, it's a great initiative from Loughborough Car Club. I was a bit hesitant at first because I didn't want to break the car. After speaking to Richard from Loughborough, he put my mind at ease and said not to worry, if it breaks they'll fix it. Not having that pressure, and just turning up and just thrashing the car around has been unbelievable fun. Since then I've sat in the car with all sorts of people, each one with their style. I'm still learning and laughing all the way round each time I'm out.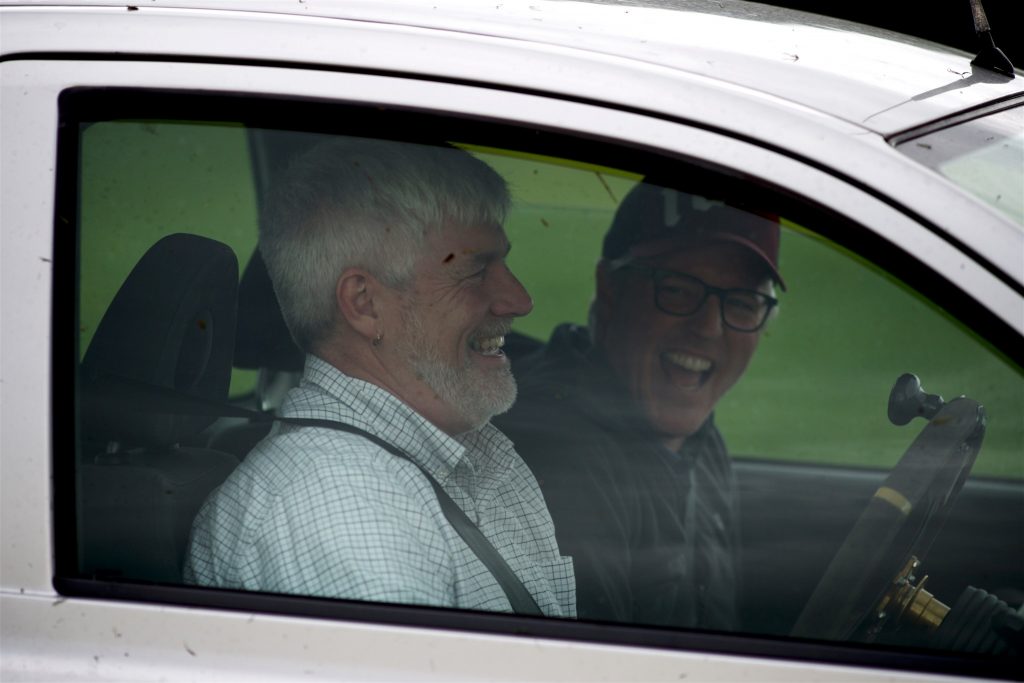 S: Were you always interested in Motorsport?
D: Bike racing – originally! I've never been a quick car driver, and bikes have always been more my thing. Saying that, however, back in my younger days we loved getting the cars out on snow days and getting the thing sideways. My friend and I used to go riding together, and after my accident I went into bike drag racing and he went into road racing and ended up competing at the Isle of Man TT. I was jealous as I had always wanted to compete in the TT as well, but that's life.
I read about the Loughborough competition on a spinal injuries website, and thought it sounded fun. After I was picked and did a few tests, I thought 'why didn't I do this earlier?'
S: Can you describe to someone, who might not know, how the controls work?
D: Of course, I have a knob on my steering wheel to easily turn and control the wheel with my left hand. With my right, I operate a lever for the throttle and brake. When you pull it you accelerate, and when you push it forward you brake. Grass Autotests can sometimes present a different challenge compared to tarmac – when you start everybody says you don't really need the handbrake…but with grass, everyone used it throughout the course. I can't use the handbrake without the passenger helping me out which requires good synergy between myself and the passenger.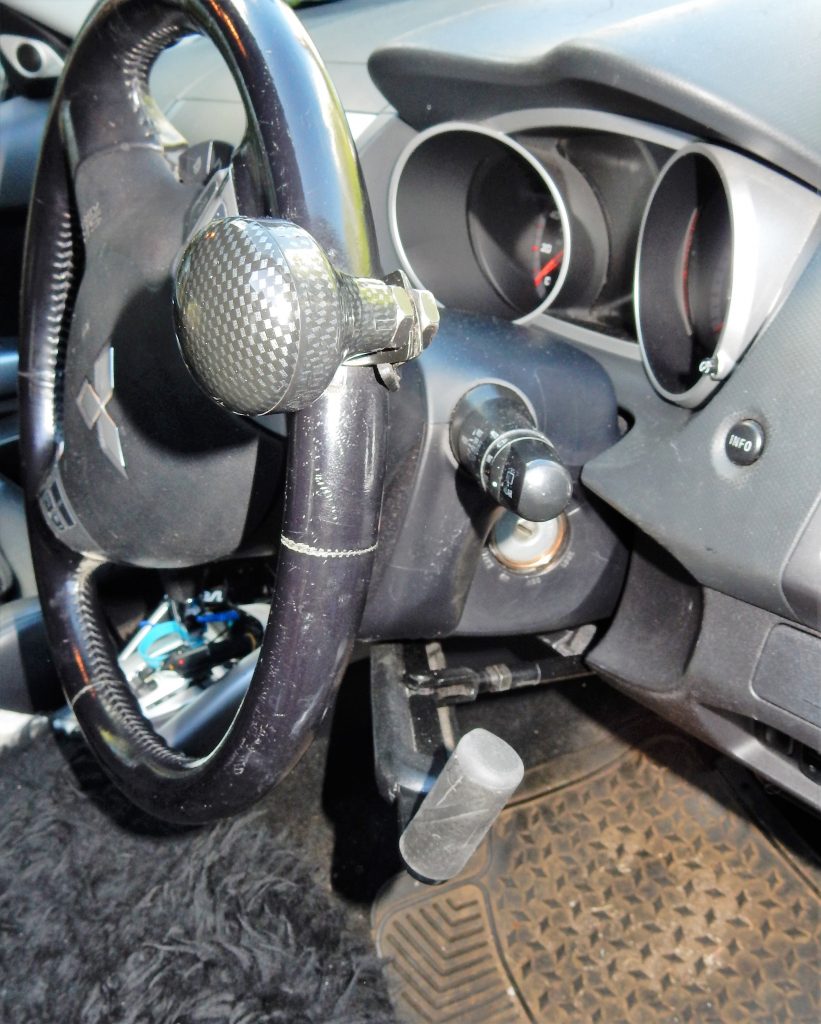 S: How accessible do you think motorsport is in general, if you have a disability?
D: Providing options which include disabilities at a grassroots levels is especially important, because its affordable, accessible and buckets of fun – what more could you want. Unfortunately motorsport competitions can be expensive, and for people with a disability -even more still. Racing with a disability both is and isn't accessible – there is lots out there, but you have to go looking for it. Sadly for some people, being with a disability can sometimes mean you don't have much money unless you are awarded a considerable sum following an accident. I think for the majority of disabled people it is unlikely that you will have the disposable income to go racing. This presents an additional challenge and there is still work to be done across the community as a whole.

Where does Dave go next in his motorsport journey? Depending on how serious he wants to take it he can either continue to compete and enjoy Autotesting, or he can see what other options are available to him via other disciplines. Dave continues, "Loughborough is a bit far for me to compete, as I live all the way in Buxton. For next year I'm looking into further options, there are a few StreetCar clubs in my area which I've been introduced to via the StreetCar website so I'm planning to get down to some of their events in 2023. I finished my last grass test with my wife as my co-driver and we finished 2nd in class & 5th overall, which we were over the moon with."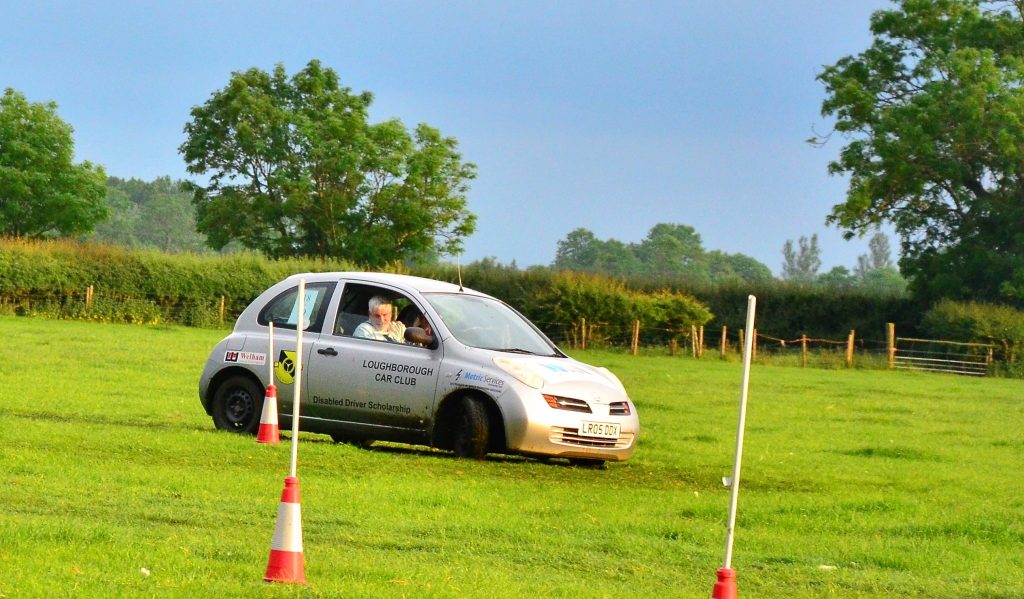 Whatever Dave decides to do, we wish him the best. You can read about Loughborough Car Club here.
Subscribe to the StreetCar newsletter
Keep up to date with news, events, and stories from across the community.
"*" indicates required fields