Event Report: Andy Wilson Memorial Autotest
Andy Wilson was a long established member of Glenrothes Motor Sport Club, a brilliant engineer and a very competitive driver. His attention to detail was evident in all his cars, including his Mini Special which featured a self-built 2-speed gearbox. In 2002, Andy was in contention to win the Scottish Autotest Championship when he sadly suffered a fatal heart attack on the stop line.
With no history of heart problems, Andy's Club now fundraises for the British Heart Foundation with an annual Autotest event. His legacy continues as both his son and grandson are regular competitors in Autotests and Rallies.
The Andy Wilson Memorial Autotest run by Glenrothes Motor Sport Club was the first round of the 2023 RALLYSCORE Scottish Autotest Championship featuring both an Autotest and a Production Car Autotest.
The event was held at Knockhill Racing Circuit and hosted a good quality of entrants keen to be in contention for the championship. Hosted by StreetCar club Glenrothes Motor Sports Club, the day consisted of three flowing, yet technical, tests. These are a favourite among the drivers and the entry list consisted of a healthy selection of Junior drivers competing – and five parent and junior combinations double driving (competing in the same car).
James Morrison came firing out of the gate, opening up an early lead in his Mini Special, and eventually winning by 40 seconds. Charlie Brown encountered some bad luck with fuel pump issues, and completed the event in the Glenthrothes Motor Sports Club Ford Ka, provided to the competitors for such a purpose.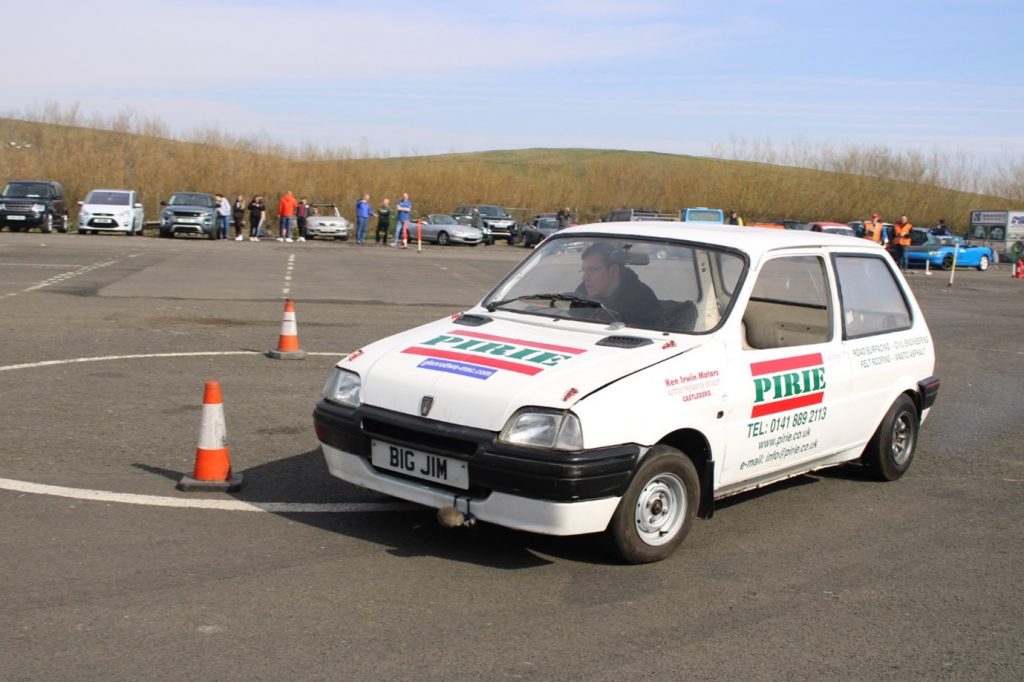 The Mazda mx-5s had a hard fought battle, with Oly McCollum emerging out on top after a very impressive drive. Martin Gillespie narrowly beat his dad, Ronnie Gillespie. Ian Forgan entered his first Autotest since last year and had a great time in his Mini 1000. The Production Car Autotest was won by Sam Hunter, closely followed by his son Lauchlan. Michael Babb, competing in his first ever Autotest, did well to beat his son Thomas.
This was the 21st year Glenrothes Motor Sports Club have been supporting the British Heart Foundation and this year the BHF had a major presence at the event, including a CPR demonstration. This year, between the event, donations and collections £731.63 has been raised for the charity.
Results
Autotest
1st – James Morrison – Mini Special – 7.06.0
2nd – Oly McCollum – Mazda MX5 – 7.46.5
3rd – Martin Gillespie – Mazda MX5 – 7.53.2
PCA
1st – Sam Hunter – Toyota Yaris – 6.41.6
2nd – Lauchlan Hunter – Toyota Yaris – 7.07.5
3rd – Michael Babb – Renault Clio – 7.19.6
By Bill Creevey, Glenrothes Motor Sport Club, StreetCar Liaison officer and lightly edited for clarity.
Get started in AutoSOLOS, Autotests or Production Car Autotest here.
Subscribe to the StreetCar newsletter
Keep up to date with news, events, and stories from across the community.
"*" indicates required fields